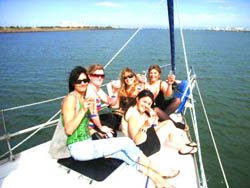 April is a great time to get out on the water. Soak up the sun and endless blue sky on a luxury yacht  it's the perfect opportunity for you to unwind or have some fun. Head out on the water with your favourite person or have an amazing time with up to 60 of your friends.You can take a fresh look at the city from a water view, or take the opportunity to enjoy some of the great historic attractions  such as dropping anchor at Half Moon Bay. If you're lucky, you might even get to swim with dolphins!Full and half day charters are available with yachts ranging from 31 to 68 feet. It's a great way to relax on the water, or join in and get involved.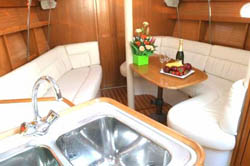 Introducing the latest crown jewel in our fleet, the Elan Impression 384. She's a brand new yacht, a pleasure to behold. The Impression 384 is no slouch on the water either, with excellent sailing qualities and impressive performance.Luxuriously fitted out below deck, the Impression 384 has all the modern comforts. There's plenty of room to stretch out and relax in the large saloon.This exquisite boat is built to exacting standards and is of outstanding quality. What's more  it has that new boat smell!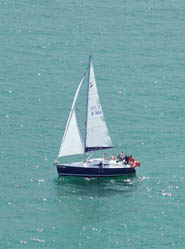 Traditional bed and breakfast arrangements will look pale in comparison to our magical nautical accommodation packages. You can enjoy all the peace and tranquillity of a private mooring at Yarra's Edge or New Quay  while still being only a few steps away from city attractions.An exciting two hour sail is followed by a night aboard to do as you please  it's just like having your own luxury yacht! Bed and breakfast aboard one of our yachts is a real yachting experience in a city front location.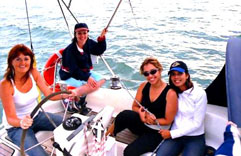 Victorian Yacht Charters offers corporate events with a difference! Hopping aboard one of our yachts is an exciting opportunity for you and your colleagues to escape from their daily surroundings.This memorable activity is a sure-fire way to enjoy time out of the office and learn new skills. Everyone participates, giving you the opportunity to push your boundaries and enjoy a new experience.
Charters are available for up to 100 or more people.